The world of beauty is tantalizing and sparkling with oh so many options out there. It is easy to jump from one excitement and newness to the next, while deep rewards and revelation lies in commitment – as it is with any relationship. Now many of you can't choose, being in the beauty industry as a buyer, a blogger or the owner and team of a skincare boutique, means for you having to try and test so and so many products a week.
This can sometimes lead to layering various balms, serums, salves and mists without a deeper awareness of how they really work together. Oftentimes your skin reacts finnicky and irritated, blemished, even inflamed. We suggest to celebrate at least one rest day a week for your skin. Go bare, go minimal. Pause to breathe deep. Practice active release, lightness and grace. Let your inner glow effortlessly emerge on the canvas of life that is your skin.
We curated two pieces to clear your energy, tune into the wisdom of your body and listen to your skin's specific needs in that very moment. Using the pieces of our Collection intuitively feels so good. Appreciate their loving guidance towards feeling light and free.
Collection
A career in Beauty
2 pcs
The Intuitive, I am the Light
€ 154,17
Core Products - A career in beauty
The Intuitive
Purifying and balancing. Beautifully calming. Each refreshing drop of this botanical facial mist clears your energy, letting go of all you do not need any more, entering a state of harmony and balance. With its beauty oils and aromatic bouquet this might just be enough of what your skin needs today. Keep a bottle near your desk and feel welcomed to mist as often as needed.
The Intuitive provides satisfying hydration for any skin type, anti-inflammatory powers for troubled conditions, as well as balance, regulation and support in mitigating stress. This is also a potent energy worker, an inspiring guide to draw your attention to your calm center, while calling forth your highest vibrancy, listening to your inner voice. Sit with this lovely bouquet and breathe deep. Connect with the soul and the spirit behind your skin.
I am the light
Featherlight and brimming with vibrancy, I am the Light is a daily illuminating potion that quickly and seamlessly sinks into your sweet skin. Awakening your skin and your energy with this oil is a sensation of incredible lightness and joy. Start with one drop on skin, soaking wet with The Intuitive.
Our luminary also helps fade small wrinkles and broken capillaries, hydrates beautifully, magnifies radiance and is antioxidant rich. Talented high-vibe ingredients release dullness and congestion, magnificently easing the traces of time. This radiant potion helps your every cell to be lighter, brighter and happier. You glow!
Continue the experience

Purity&Grace

Should you wear make-up or sunscreen on the days you go light on skincare, Purity&Grace, this inclusive daily cleanse, is there for you to clear and purify skin, soul and spirit. This silky elixir reduces and prevents breakouts, clears dullness, boosts microcirculation and helps to uplift appearance with combined ingredient power of moisturizers, antioxidants and Sea Buckthorn as a radiation protector. Beyond the eye's vision, Purity&Grace clears the energy and acts as a counter to the buildup of electromagnetic toxins that can affect the body's circadian rhythms. Take one deep breath of the aromatic bouquet when you need a reset and yours is a clarity that opens your world for fresh curiosity and new ideas.

Rescue Balm

So many beauty industry insiders are reaching out to us to get help when some potion they tried and tested didn't comply with their skin, leaving them in rashes, with redness and breakouts. I always instantly suggest Rescue Balm, our vanilla-hued potion which holds a special place for the most sensitive, inflamed, reactive and traumatized conditions. A tender blend of butters and oils, Rescue Balm imparts a sense of calming relief and balance as a counter to stress. This marshmallow-y whip brings its own harmony into your world, onto your skin.

Mask&Wash

Next time when your skin is angry from too much product testing and layering, succumb into this calming and relieving
Raw Manuka Honey-Hug, taming inflammation, releasing redness, inducing a deep calm - sweet serenity. Potent powders, comforting butters and the signature aroma bouquet are swirled fluidly into a deliciously soft and chocolaty mousse.

The Cloth

Made of finest organic linen, woven into a soft and tender fabric with pristine Algae from Islandic fjords and purifying fibers of the eucalyptus tree. Antimicrobial, inflammation taming and soothing The Cloth guides your skin back to its natural glow. Either breathe into it while enjoying The Cloth steaming hot over your whole face, or just sweep the damp Cloth gently over your face - to establish balance again. Feel into how this simple cleansing ritual can be such a relieving and deep experience. Should you want to take off make-up or sunscreen feel welcomed to add Purity&Grace to this ritual.
Core Products
The Intuitive
Botanical facial mist
100 ml ~ 3.38 fl. oz.
€ 62,50
learn more >>
I am the Light
Reviving, toning facial oil
the glow-getter
30 ml ~ 1.01 fl. oz.
€ 91,67
learn more >>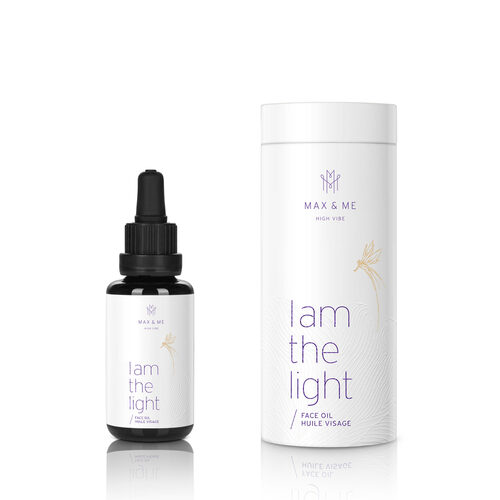 Continue the experience