Treat yourself into a much-needed detox from the data driven world. Information overload and endless streams of thoughts exhaust your body. Pluck out, shake it off! Literally. Dance for 5 minutes to get back into your feeling body. Breathe. Breathe deeply. And intentionally. Luxuriate into these flavorful fragrances of our oil blends and balms, our mist and mask.
Find yourself connecting to your senses again, coming down into the home that is your body. Each drop and dollop holds the ancient wisdom of plants and offers delicious opportunities to help you shift, rebalance and soften.
Celebrate a fine state of balance and harmony initiated by chosen treats from our ceremonial Collection, reaching also the soul and spirit behind your skin.
Collection
Generation Digital
3 pcs
The Intuitive, Purity&Grace, Mask&Wash
€ 187,50
Core Products - Generation Digital
The Intuitive
Start with The Intuitive to powerfully clear your energy after and throughout spending time at your mobile or computer, desaturate and declutter your mind and uplift your spirit with its warm woody spiciness and tangy freshness.
Mist around your head and onto your face and feel the power of Palo Santo freeing you from your endless stream of thoughts. Repeat as often as needed. Breathe deeply into the essence of this magical mist and release any tension in neck and shoulders with a few long breaths.
Purity & Grace
Cleansing as an act of ceremony. Warm generous drops of this flavorful, spicy skinfood between the palms of your hands and breath deep into the clarity of this blend to clear your head energy from all the clutter of the digital worlds. Step back into the flow, the lightness, into the now.
Then treat yourself to a massage, first loosen the occipitalis muscle which is located at the back of your scull. It often gets overextended by typing and texting. Then luxuriate into working the funnels of your face, activating the flow of your qi, relieving tightness and congestion: gently start at your collar bone, move on to neck and shoulders and finish off with the corners of our jaw. Your skin, now warm and receptive will welcome the goodness of Purity&Grace, that shines in spicy Tamanu, moisturizing Apricot Kernel, detoxifying Sesame and Hyssop to support purification and clearing like nothing else.
Mask & Wash
Always alert and waiting for the next message, ready to react within seconds. This state of constantly feeling 'ON' needs a rich counterbalance. Let yourself be filled again by our master healer mousse, Mask&Wash, with its spicy herbaceous honey, its chocolaty flavor, its fruity Mangosteen and sweet Thahitian Monoi all swirled fluidly into a creamy mousse.
Sink into this Raw Manuka Honey-Hug with a sigh of relief and enjoy an energy of coming back into balance, of falling into place and celebrate your innate rhythm. Breathe a golden shield into your skin and the space beyond. Allow a feeling of deep rest and nurturance.
Continue the experience

I am the Light

This golden potion is aligned - through its third eye resonance - with the pituitary gland, which often gets disbalanced when exposed to blue light. The gentle power of Pink Lotus, Frangipani, Jasmine and White Fir make for a vibrating and invigorating nectar of luminance, helping you into regulation again, reactivating your inner knowing. Featherlight and brimming with vibrancy, this radiant potion deeply hydrates your skin and helps your every cell to reawaken and be lighter and brighter.

Beauty Balm

Let yourself be filled by this sensorial and deeply nurturing serenade of butters and aromatic oils as a most beautiful counterbalance to feeling drained and exhausted after too many hours in front of the screen. Beauty Balm, this wildflowery hydrator, also boosts collagen naturally keeping tone, texture and elasticity of your skin vibrant in the face of the challenging effects of bluelight.
Core Products
The Intuitive
Botanical facial mist
100 ml ~ 3.38 fl. oz.
€ 62,50
learn more >>
Purity & Grace
Transforming cleansing oil
50 ml ~ 1.69 fl. oz.
€ 50,00
learn more >>
Mask&Wash
Calming, hydrating & rejuvenating
master healer mousse
100 ml ~ 3.38 fl. oz.
€ 200,00
learn more >>
Continue the experience
I am the Light
Reviving, toning facial oil
the glow-getter
30 ml ~ 1.01 fl. oz.
€ 91,67
learn more >>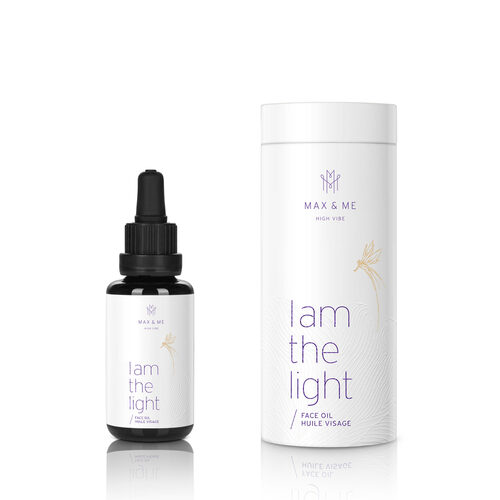 Beauty Balm
Deeply sensorial, fortifying nourisher
30 ml ~ 1.01 fl. oz.
€ 116,67
learn more >>
Add on
Crystal Beauty
Purifying and clearing body oil
100 ml ~ 3.38 fl. oz.
€ 58,33
learn more >>