The effects our fast-paced, performance-oriented world has on each and every one of us – physically, emotionally and mentally – especially shows in cities. It is a life often alienated from nature in a never-ending cycle of performing rather than connecting. This can bring about stress, frustration and irritability which together with indoor and outdoor pollution only too readily show on our skin.
We invite you to realign with the plant world through each and every piece of our Collection. Feel the comforting energy of mother earth and how she always holds you. Succumb to an energy of sublime healing and life force recalibrating – a counter to the increasingly toxic environmental and electronic surroundings and emotional stressors of big cities. We curated 5 pieces for you that have mastery in detoxification, pollution protection and free radical neutralization.
Each ceremonial piece brings regulation and balance whilst helping to purify and protect with super-antioxidant ingredients, improving overall tone, texture and a youthful appearance of the skin. This nurtures much needed regeneration and self-healing and has a pronounced effect on all cellular and biochemical processes in the body. The benefits can also be strongly felt emotionally and mentally, reinvigorating joy along with inspiring expressions of creativity, releasing overthinking and tension - letting yourself shine again in all your beauty.
Collection
City Dwellers
5 pcs
The Intuitive, Rescue Balm, Mask&Wash, Purity&Grace, Circle of Protection
€ 308,33
Core Products - city dwellers
The Intuitive
Free yourself from all that weighs you down and create space inside-out. Invite fresh curiosity, high vibes and clarity into each and every new day. Trust our botanical facial mist to clear your energy from daily city life, bringing about a mood of tranquility and wellbeing, centering you.
The spirit of sacred Palo Santo, honored since millennia for its purification powers, frees you from all that doesn't belong. The Intuitive is an inspiring guide to return your attention to your calm center, while calling forth your highest vibrancy, hearing your inner voice. Experience a place within yourself that is always at rest - no matter how much the megapolis around you turns up the noise. All the while your skin drinks in happily the flavorful bouquet of flower waters, essential oils and beauty oils, enjoying a deep calm and satisfying hydration. This Botanical facial mist also doubles as a magnificent indoor and outdoor mist – enjoy the energy clearing, the protective quality, the peacefulness it spreads. Before meetings and important talks, during conferences or simply at home in your apartement
– marvel at the pure, centered, tranquil space it creates.
Purity & Grace
An uptick in environmental toxins and ultraviolet rays, indoor and outdoor pollution builtup, dust whirling on the streets call for a cleansing ritual that is detoxifying and clearing for body, mind and soul while boosting self-healing capacities and strengthening skin's barrier.
Purity&Grace, our inclusive facial oil cleanser, beautifully detoxifies, releasing congestion, boosting microcirculation, revealing clear, hydrated and calm skin via combined ingredient power of pollution protector Sesame, radiation protector Sea Buckthorn and Tamanu as a sacred Polynesian healer. Above and beyond this Purity&Grace with its aromatic bouquet, declutters the mind, managing overthinking and anxiety and helps to let go of tension and stress. Breathe into its spicy bouquet and a fresh clarity is yours.
Mask & Wash
Succumb to this Raw Manuka Honey-Hug. This deliciously lush mousse offers a potent detox from daily city life, with the mastery of Raw Manuka Honey leading the way, oxygenating pores, drawing out impurities and sloughing away dead skin cells. Powerful yet gentle, Kaolin Clay chimes in with its natural ability to purify, absorbing all your skin wants to shed.
Add to this superantioxidant-rich Balinese Cacao, anti-inflammatory Thai Mangosteen and collagen boosting Corsican Helichrysum and even the most troubled find ease and elation with this calming and hydrating master healer. Also be sure to feel reconnected and grounded - Mask&Wash evokes the element earth at its most sensual and deeply tranquil.
Rescue Balm
City life with its pollutants and toxins, its hustle and bustle easily leads to troubled skin. This marshmallow-y whip holds a special place for the most sensitive, inflamed, reactive and traumatized conditions.
Rescue Balm, this little powerhouse, instantly imparts a sense of calm and balance as a counter to stress, releasing redness, inflammation, rashes and any other kind of drama on the skin. Deliciously dip in for a pea size of this goodness. The vibrancy of this comforting salve gently whispers: I am open to what you want to heal.
Circle of Protection
Ushering forth a feeling of calm, strength and security, body oil Circle of Protection is a silky marriage of Argan, Rosehip and Marula holding an aromatic bouquet that is like medicine to all who need to be safeguarded in overcrowded, dense city spaces.
With its consolidating, centering effect, smoothing the flow of the qi, Circle of Protection imbues us with the grounding and reassuring strength of mother earth and her deep sense of belonging through the gentle powers of Geranium, Vetiver and Manuka. Circle of Protection balances the nervous systems, counteracting stress by releasing fear, impending anxiety and insomnia - warding off negativity welcoming the light into places needed. Whether exhausted or out of touch with your body and its needs through the exhilarating rhythm of city life, Circle of Protection calms and reconnects, closing the gap between spirit and matter. Vibrant with magnetic, floral tones each fragrant drop is also rich in antioxidants being of service to you as a pollution protector.
Continue the experience

I am the Light

Awakening your skin and your energy with this oil is a sensation of incredible lightness and joy. Brimming with vibrancy this nectar of glow helps with skin prone to fluctuations from everyday stress and helps to keep a youthful tone and texture. This radiance potion sinks seamlessly into skin and makes you feel like dancing. Talented high-vibe ingredients such as Neroli, Jasmin and Rose invigorate by releasing dullness and congestion, magnificently easing the traces of long city days and nights. Feel inspired by the connection of Pink Lotus, Frangipani and White Fir to your third eye and spark your inner to outer glow. This radiant potion helps your every cell to be lighter, brighter, happier and more resilient.

Enchanted

In the urban jungle we only too often get alienated from our feeling world. Formulated to resonate with your heart chakra, this multi awarded face oil knows how you cultivate a state of softness and tenderness until it becomes your steadfast quality of being. Love is what's emerging from every application of this sublime oil. Each dewy, fragrant drop is cradling, cocooning, nourishing. Imagine a lover's sweet embrace that opens and softens you. In any moment you have the power to awaken the softness, the silkiness of your skin. Tender kisses of Frangipani, Rose, Sandalwood and Champak bestow their botanical charms to calm and assist in regeneration, balancing irritated, sensitive and mature conditions. High in Jasmine, Enchanted is also so beneficial for both chronic and acute anxiety, particularly where there is nervous exhaustion due to stress and overwork.

Beauty Balm

Air conditioning, overheated rooms and the toll pollution takes on your skin can exhaust and deplete. Call on Beauty Balm, a deeply sensorial and fortifying moisturizer with its sincere rejuvenating and elevating effects. Whilst replenishing dehydrated and depleted conditions, Beauty Balm pampers and uplifts with its stunning wild-flower aroma to bring the skin back into balance, all the while boosting collagen naturally. Feel the soft serenade of Murumuru, Rosehip, Argan and Wild Cherry Seed and have sun-drenched Helichrysum lift your spirits high.
Core Products
Continue the experience
I am the Light
Reviving, toning facial oil
the glow-getter
30 ml ~ 1.01 fl. oz.
€ 91,67
learn more >>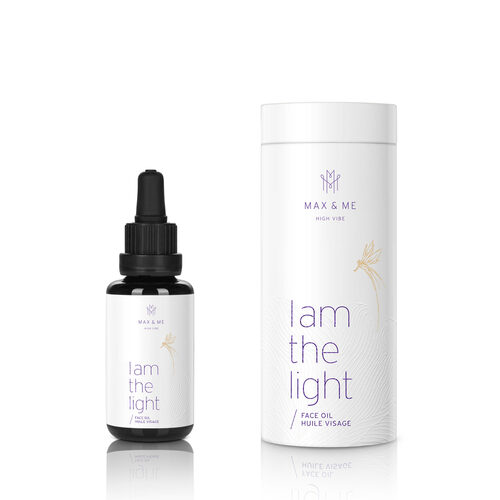 Enchanted
Calming, replenishing facial oil
with a love spark
30 ml ~ 1.01 fl. oz.
€ 91,67
learn more >>
Beauty Balm
Deeply sensorial, fortifying nourisher
30 ml ~ 1.01 fl. oz.
€ 116,67
learn more >>
Add on